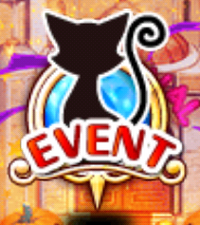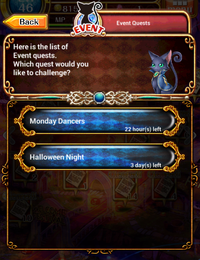 Events allow access to special quests (usually time-limited) or activate special game mechanics. There are a number of unique spirits only available during these events.
Events come in several different styles:
Quest Events are a series of four to five quests of increasing difficulty. Players usually need to either grind the quests for rare drops or answer a lot of sorting chest questions to get the rewards.
Wizard Cup Events use the Tournament system to pit players against each other and fight for rewards.
Dungeon Events have a string of many quests, usually 100, that slowly increase in difficulty. These events are excellent for getting rewards and gold.
Gift Events are quick, easy quests that give a special reward gift. Almost every player can defeat them so don't think twice before attempting one.
Megaboss Events have only one unique quest each with cannibal spirit(s). The quests are challenging and may require some specific strategies and/or spirits with certain abilities to be cleared.
Limited Events
Edit
Event
Duration
Type
Diabolic Regiment Revisited (2016)
July 29th to August 18th, 2016
Quest
The Chrome Magna Wizard School (2016)
July 15th to July 28th, 2016
Quest
Rabbit, Mischief & Goddess Revisited (2016)
June 24th to July 14th, 2016
Quest
Wolf of Scarlet Woods Revised (2016)
June 3rd to June 23rd, 2016
Quest
Infinite Obelisk Revisited (2016)
May 13th to June 2nd, 2016
Dungeon
Wizard of Gears Revisited (2016)
April 29th to May 12th, 2016
Quest
Jennifer Abbott and the Ruins of Sand (2016)
April 22nd to April 28th, 2016
Quest
Princess of Eternity Revisited (2016)
April 14th to April 21st*, 2016
*Extended by 1 day.
Quest
Abyss Code 02: Blind Conformity
April 7th to April 10th, 2016
Megaboss
Egg Kingdom (2016)
March 28th to April 6th, 2016
Quest
Ogre Hunter Tales Revisited (2016)
March 17th to March 27th, 2016
Quest
Guild Bootcamp!
March 7th to March 16th, 2016
Gift Quest
Sweet Rhapsody
February 22nd to March 6th, 2016
Quest
Renewed Chocolat Forest (2016)
February 11th to February 21st, 2016
Quest
Crimson Battlefront
January 28th to February 10th, 2016
Quest
Triple Gauntlet
January 25th to January 27th, 2016
Megaboss
The Dusk's Four Revisited (2016)
January 14th to January 24th, 2016
Quest
Guild Bootcamp!
January 7th to January 17th, 2016
Gift Quest
Event
Duration
Type
Twins of the Heavens: Separation
December 28th to January 7th, 2016
Quest
Christmas with the Guild Masters
December 17th to December 25th, 2015
Gift Quest
Legend of Dragon Gods Revisited (2015)
December 7th to December 16th, 2015
Quest
Rabbit, Mischief & Goddess Revisited
November 27th to December 6th, 2015
Quest
Abyss Code 01: Slatescale King
November 19th to November 26th, 2015
Megaboss
The Guild Masters Return Again
November 12th to November 19th, 2015
Gift Quest
From Purgatory
November 1st to November 11th, 2015
Megaboss
Renewed Halloween Night (2015)
October 21st to October 31st, 2015
Quest
October 13th to October 23rd, 2015
Gift Quest
Chrome Magna: Summer '15
September 29th to October 12th, 2015
Quest
Legend of Dragon Gods II (2015)
September 8th to September 28th*, 2015
*Extended by 7 days.
Quest
Jennifer Abbott and the Ruins of Sand (2015)
August 25th to September 7th, 2015
Quest
Triple Gauntlet
August 18th to August 20th, 2015
Megaboss
Guild Bootcamp!
August 14th to August 24th, 2015
Gift Quest
Ether Tower
August 11th to August 31st, 2015
Dungeon
Princess of Eternity Revisited
July 29th to August 10th, 2015
Quest
Wizard Cup: Flower Carnival
July 24th to July 27th, 2015
Wizard Cup
Guild Bootcamp!
July 17th to July 27th, 2015
Gift Quest
Circus of Insanity (2015)
June 30th to July 13th, 2015
Quest
Ether Tower
June 16th to June 29th, 2015
Dungeon
Fairy Garden Revisited
June 2nd to June 15th, 2015
Quest
Crystallic Wizard Cup
May 29th to June 1st, 2015
Wizard Cup
Triple Gauntlet
May 26th to May 28th, 2015
Megaboss

Orlha Reports

May 22nd to May 25th, 2015
Megaboss
Guild Bootcamp!
May 15th to May 25th, 2015
Gift Quest
The Dusk's Four Revisited
May 1st to May 15th, 2015
Quest
Wizard Cup: Royal Cuisinier II
April 24th to April 27th, 2015
Wizard Cup
Triple Gauntlet
April 21st to April 23rd, 2015
Megaboss
Guild Bootcamp!
April 17th to May 1st, 2015
Gift Quest
Egg Kingdom (2015)
April 7th to April 16th, 2015
Quest
Wizard Cup: Dragon
April 3rd to April 6th, 2015
Wizard Cup
Orlha Report -Innocent Prisoner-
March 24th to March 26th, 2015
Megaboss
Guild Bootcamp!
March 20th to March 30th, 2015
Gift Quest
Ogre Hunter Tales Revisited
March 11th to March 24th, 2015
Quest
Renewed Eternal Chronos
February 24th to March 10th, 2015
Quest
Triple Gauntlet
February 18th to February 20th, 2015
Megaboss
Guild Bootcamp!
February 13th to February 23rd, 2015
Gift Quest
Ether Tower
February 6th to February 16th, 2015
Dungeon
Wolf of Scarlet Woods Revisited
January 28th to February 12th, 2015
Quest
Hidden Arts Wizard Cup
January 23rd to January 26th, 2015
Wizard Cup
Orlha Report -Innocent Prisoner-
January 20th to January 22nd, 2015
Megaboss
Guild Bootcamp!
January 16th to January 26th, 2015
Gift Quest
Infinite Dungeon: Spire of Element Revisited
January 11th to January 22nd, 2015
Dungeon
Triple Gauntlet
January 11th to January 22nd, 2015
Megaboss
New Years Gift
January 6th to January 9th, 2015
Gift Quest
| Event | Duration | Type |
| --- | --- | --- |
| New Years Fes! | December 31st to January 5th, 2015 | Gift Quest |
| Princess of Eternity | December 30th to January 14th, 2015 | Quest |
| Stellar Wizard Cup | December 26th to December 29th, 2014 | Wizard Cup |
| Gift from Santa Wiz | December 25th to December 27th, 2014 | Gift Quest |
| Gift from Santa Revisited | December 24th to December 31st, 2014 | Quest |
| Orlha Report -Tirant of Shades- | December 22nd to December 24th, 2014 | Megaboss |
| Circus of Insanity | December 11th to December 25th, 2014 | Quest |
| Ether Tower | December 7th to December 14th, 2014 | Dungeon |
| Black Cat Friday | November 28th, 2014 | Gift Quest |
| Wizard of Gears Revisited | November 26th to December 12th, 2014 | Quest |
| Iron Forged Wizard Cup | November 21st to November 24th, 2014 | Wizard Cup |
| Triple Gauntlet | November 18th to November 20th, 2014 | Megaboss |
| Jennifer Abbott and the Ruins of Sand | November 7th to November 20th, 2014 | Quest |
| Ether Tower | November 6th to November 13th, 2014 | Dungeon |
| Renewed Halloween Night | October 29th to November 13th, 2014 | Quest |
| Halloween Wizard Cup | October 24th to October 27th, 2014 | Wizard Cup |
| Lunatic Gauntlet | October 21st to October 22nd, 2014 | Megaboss |
| Divine Gauntlet | October 19th to October 20th, 2014 | Megaboss |
| Demon's Gauntlet | October 17th to October 18th, 2014 | Megaboss |
| Fairy Garden Revisited | October 10th to October 23rd, 2014 | Quest |
| Legend of Dragon Gods II | October 7th to October 23rd, 2014 | Quest |
| Legend of Dragon Gods Revisited | September 30th to October 14th, 2014 | Quest |
| Chrome Magna Wizard Cup | September 26th to September 29th, 2014 | Wizard Cup |
| Lunatic Gauntlet | September 24th to September 25th, 2014 | Megaboss |
| Renewed Chocolat Forest | September 12th to September 25th, 2014 | Quest |
| Chrome Magna: Summer Beach Camp | September 4th to September 25th, 2014 | Quest |
| Renewed Chrome Magna | August 26th to September 18th, 2014 | Quest |
| Endless Aggression Revisited | August 26th to September 11th, 2014 | Dungeon |
| Wizard Cup: Legends | August 22nd to August 25th, 2014 | Wizard Cup |
| Divine Gauntlet | August 20th to August 21st, 2014 | Megaboss |
| Guild Masters Return...! | August 19th to August 31st, 2014 | Gift Quest |
| One Year Anniversary! | August 15th to August 22nd, 2014 | Gift Quest |
| Rabbit, Mischief & Goddess | August 6th to August 21st, 2014 | Quest |
| Wolf of Scarlet Woods | July 24th to August 11th, 2014 | Quest |
| Infinite Obelisk Revisited | July 22nd to July 31st, 2014 | Dungeon |
| Wizard Cup: Royal Cuisinier | July 18th to July 21st, 2014 | Wizard Cup |
| Demon's Gauntlet | July 16th to July 17th, 2014 | Megaboss |
| The Dusk's Four | July 4th to July 17th, 2014 | Quest |
| Wizard Cup: Summer Winds | June 27th to June 30th, 2014 | Wizard Cup |
| Wizard of Gears | June 17th to June 26th, 2014 | Quest |
| Renewed Chrome Magna | June 4th to June 11th, 2014 | Quest |
| Renewed Eternal Chronos | May 27th to June 3rd, 2014 | Quest |
| Wizard Cup: Awakening | May 23rd to May 26th, 2014 | Wizard Cup |
| Hidden Powers! | May 19th to May 29th, 2014 | Gift Quest |
| Infinite Dungeon: Spire of Element | May 19th to May 29th, 2014 | Dungeon |
| Fairy Garden | May 8th to May 15th, 2014 | Quest |
| Diabolic Regiment Revisited | May 2nd to May 6th, 2014 | Quest |
| Waterfall Abyss Revisited | April 28th to May 1st, 2014 | Quest |
| Harmonic Wizard Cup | April 25th to April 28th, 2014 | Wizard Cup |
| Get the Eggs! | April 19th to April 20th, 2014 | Gift Quest |
| Egg Kingdom | April 16th to April 23rd, 2014 | Quest |
| Legend of Dragon Gods | April 9th to April 21st, 2014 | Quest |
| THE FINAL BATTLE (?) | April 1st, 2014 | Gift Quest |
| Ogre Hunter Tales | March 31st to April 7th, 2014 | Quest |
| Endless Aggression | March 19th to 27th, 2014 | Dungeon |
| Surge of Chaos | March 11th to March 18th, 2014 | Quest |
| Wizard Cup Winter Fall Edition | March 7th to March 10th, 2014 | Wizard Cup |
| Eternal Chronos | February 25th to March 5th, 2014 | Quest |
| Chocolat Forest | February 14th to February 21st, 2014 | Quest |
| Wizard Cup Twilight Edition | February 7th to February 10th, 2014 | Wizard Cup |
| Infinite Obelisk | January 27th to February 5th, 2014 | Dungeon |
| Chrome Magna New Years Party | January 16th to January 23rd, 2014 | Quest |
| Wizard Cup Astrological Edition | January 10th to January 13th, 2014 | Wizard Cup |
| Event | Duration | Type |
| --- | --- | --- |
| Infinite Dungeon | December 26th, 2013 to January 3rd, 2014 | Dungeon |
| Gift from Santa | December 20th to December 25th, 2013 | Quest |
| Diabolic Regiment | December 12th to December 19th, 2013 | Quest |
| Wizard Cup Snowflake Edition | December 6th to December 9th, 2013 | Wizard Cup |
| Waterfall Abyss | November 29th to December 4th, 2013 | Quest |
| Dragon's Blader (Run 2) | November 22nd to November 26th, 2013 | Quest |
| The Chrome Magna Wizard School | November 14th to November 20th, 2013 | Quest |
| Wizard Cup Golden Edition | November 7th to November 11th, 2013 | Wizard Cup |
| Halloween Night | October 28th to October 31st, 2013 | Quest |
| Dragon's Blader | October 18th to October 22nd, 2013 | Quest |
| Wizard Book & Gold Pot (Run 2) | September 28th to October 4th, 2013 | Special |
| Wizard Book & Gold Pot | September 6th to September 16th, 2013 | Special |
Promotional Campaigns
Edit